This is my Facebook status update today:
"Ugh. That was the trip to the grocery store after preschool pickup. Shopping cart did not have straps, Kait tried to sit on 3 cartons of eggs, and when I tried to put both back in the cart - they screamed and I screamed. Then a lot of people turned around and looked at me with mouths wide open. I walked by and smiled brightly at all of them with my children clinging to the outside of the cart. Don't you dare judge - I KNOW you are not as perfect either. Again, ugh!"
I came home and tried to cry. Jacob saw me and cried.
They warned me, "We do not want to go." I just needed eggs: 79 cents a dozen at Aldi, and none of the carts have straps (an issue I was told would be solved last Tuesday). Just miserable. My bad. It was minutes from naptime and any mother in her right mind knows you DO NOT attempt anything that will conflict with napping. As Justin would say...Derp! *He would also pull up the famous picture of Texas University quarterback McCoy chewing on his chin strap and "derp" me again. It's an Aggie joke.*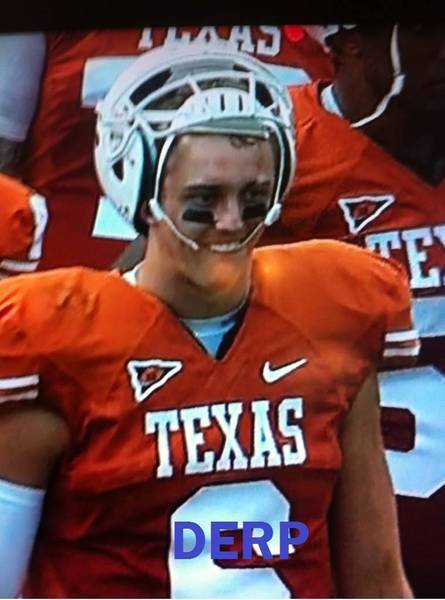 There it is, folks. There it is.
Back to the subject....I am not perfect, and God has given me clear glasses to see this. I can name it, but someday when I run for President, I need everyone to think I am perfect. So, we will just leave that to your imagination. However, God is so good. Let's talk about how good...
Forgiveness:
Therefore, if anyone is in Christ, the new creation has come: The old has gone, the new is here! - 2 Corinthians 5:17.
Promise of new:
He who was seated on the throne said, "I am making everything new!" Then he said, "Write this down, for these words are trustworthy and true." - Revelation 21:5
Looking forward:
Forget the former things; do not dwell on the past. See, I am doing a new thing! Now it springs up; do you not perceive it? I am making a way in the wilderness and streams in the wasteland. Isaiah 43: 18-19
Today's nap time has shown I am not perfect, but He is! He can give me new wind, new attitude. He makes all things new. Boy, do I need all things new today in my life. My attitude - bring new life. My mothering - bring the rains of refreshment. My relationships - bring new blooms. My trust in God - you alone deserve my attention.
~ Kaitlyn is up. She walked into the room with three cartons of strawberries stacked on each other saying, "I'm so hungry." Yes, yes, you are. Yes, yes, we eat lots of strawberries in our home.
Have a great day, especially if you are not so perfect!
Suz